What is a PMO?
A PMO is the backbone of a successful project management approach at an organization. Although it does not perform the actual work on projects or making any decisions itself, but they are familiar with the resources on them.  They know their employee skills and performance characteristics and communication regularly with the project managers and line managers in the groups that actually perform the work. A PMO underpins the project delivery mechanisms by ensuring that all business change in an organization is managed in a controlled way. According to the Office of Government Commerce based in the UK a mature PMO should typically provide the following:
Governance: ensuring that decisions are taken by the right people, based on the right information. The governance role can also include audit or peer reviews, developing project and program structures and ensuring accountability.
Transparency: providing information with a single source of the truth. Information should be relevant and accurate to support effective decision-making.
Reusability: stopping project teams from reinventing the wheel by being a central point for lessons learned, templates and best practice.
Delivery support: making it easy for project teams to do their jobs by reducing bureaucracy, providing training, mentoring and quality assurance.
Traceability: providing the function for managing documentation, project history and organizational knowledge.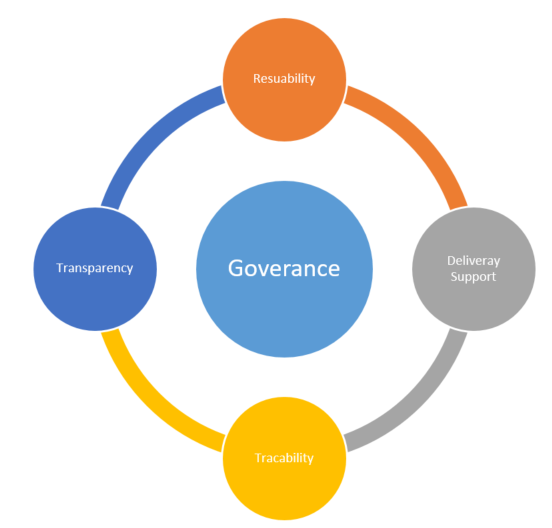 PMO day-to-day functions:
Manage resources for projects
Gather project progress, data and status
Adopt or encourage the adoption of open standards and processes
Develop and custom standards or process when it is necessary
Deliver training and mentoring projects
Manage dependencies across multiple projects
Review and track initiatives are aligned with the business goals and objectives of the business
Reporting on financial information such as return on investment.